Duty After Life! Harbhajan Singh, a Soldier who Still Guards the China Border Post Death!
This is something unbelievable. How can someone be on on the border if he died already in 1967? Even I am curious to know the answers. Well, this is a story that you may deny to believe at first just like us but it's believed to be totally true even by soldiers!
Below is how Singh earned the title of 'baba' by the soldiers and why it is believed that he is still on duty post his death...
Harbhajan Singh died dated back in 1967 by slipping in a riverbed while leading a column of mules near the Nathu-La pass. His body got recovered three days from the time he met with an accident, also according to stories, it was his own ghost or spirit who lead the search party to the body. Followed this, Harbhajan Singh came in the dream of one his fellow soldiers and asked him to build up a memorial for himself, followed, the regiment did the same.
Soon the martyr Harbhajan Singh got a designation to add before his name 'Baba'. Not just that, but also it is believed that baba protects 3,000 odd men of the Nathula brigade and also predict any signs of any attacks prior to the incident.
Inside his shrine, there is a large framed portrait of the soldier. Other soldiers make his bed, clean his uniforms, and also his shoes. The soldiers insist that they have found the bed crumpled and the boots muddy (OMG! There is definitely someone).
The Immortal Soldier and his devotees
The devotee also keeps a sealed water bottle with a name inscribed, which is collected by them after a week and they believe that baba purified it(which is then can be used to heal ailing of soldiers).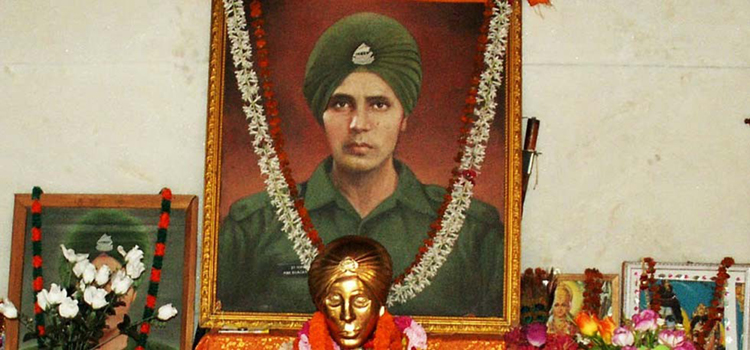 Also legend has it that baba visits home on September 13 every year, he has a berth booked on the Dibrugarh Express - his portrait and suitcase are accompanied by three soldiers right up to his village where his family greets him with fanfare.