Hanging Condoms, Celeb Pics and Worshiping the Tree is Valentine's Day Ritual in This Delhi College!
Do you know? A tree can help you find the love of your life by just worshipping it! Well, that sounds absurd to us, however, at least for the students in a Delhi College its a ritual that they believe and follow on the day of Valentine!
Something very unusual happens at the Hindu College of Delhi University on Valentine's Day! Where we believe such entities to fall under that section of the society which is often offensive towards celebrating such days (with western influence) calling it obscene, on the other hand, this college is setting up an another trend which isn't meaningful but doltish! Bizarrely is the only word we have for this college's Valentine tradition!
Let's know more about this tradition!!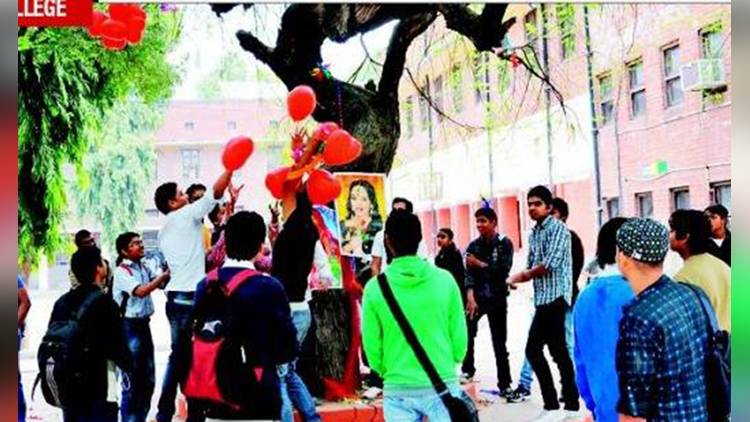 Valentines Day Is Not Less Than Pseudo-Festival At Hindu College.
Students worship the tree named 'Virgin Tree' on Valentines Day with the belief to lose their virginity within a year!
This is the Site of Hindu College on Valentine's Day!
The day begins with the sight of the Virgin Tree, decorated with not only balloons and ribbons, but with photos of Bollywood celebs and water filled Condoms (Oh yes, you read that right!).
Like every year, celebrities are worshipped as sex symbols (or the Damdami Mata). As the fable states that whoever recites the  'Damdami Mata ki Arti'  (yes, there is also a  'puja'  that is recited!), prays to the sex goddess, eats the 'prashad' and gets sprayed on by the holy 'condom' water, will surely lose virginity in the following year.
Hahaha!
The Whole Celebration Includes Prayer giving to the Tree and Procession!
Needless to say, students desperately wishes it to be true.
The 'pujari' of this 'puja' is a hosteler, preferably a fresher, whose procession is carried from the Hindu College hostel to the Virgin Tree.
Hanging Condoms on The Virgin Tree!
Ever wondered about hanging a condom on a tree? Yes! Indeed, it happens on the eve of Valentine's Day every year in the Hindu College, one of the premier college of the University of Delhi!
Primarily started with a view to spread awareness about having safe sex the event has now taken a dull-witted turn which can make anyone go ROFL!
This is actually a LOL moment, This kinda festivals are really rare in the colleges.
Well, if you are also too desperate to have a gf or bf and lose your virginity then go book your seat in the college this Valentines, LOL!